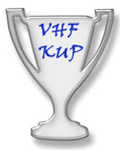 Poštovani učesnici VHF KUP-a SRRS 2018
Nakon što je istekao rok za žalbe na Nezvanične rezultate, a da na našu adresu nije stgao ni jedan prigovor (žalba) ostaje nam samo da Nezvanične rezultate proglasimo Konačnim bez ikakvih izmjena. Želim da u ime Takmičarske komisije čestitam pobjednicima, a svim učesnicima još jednom zahvalim na učeću i pozovem sve da se i dogodine ponovo družimo u istom terminu, nadam se, u još većem broju.
Izrada plaketa za pobjednike je u toku i biće dostavljene uskoro na jedan od propozicijama predviđenih načina.
Hvala još jednom svima, živi i zdravi bili i do slušanja.


Dear participants of VHF CUP SRRS 2018
After the deadline for appeals against Unofficial resutls has expired, and there is no objection (complaint) to our address, it remains for us only to declare the Unofficial resutls to the Final without any modifications. I want to congratulate the winners on behalf of the Contest Committee, and thank all the participants for their participation and we invite them to join the contest again in the same term next year, hopefully in a much larger number.
Creating a plaque for the winners is ongoing and will be submitted shortly to one of the proposed ways of contest rules.
Thanks again to everyone, enjoying and being healthy.
Predsjednik TK / For Contest Committee: Željko Ostojić - E77C
Konačni rezultati - Officila results
Category: 144 MHz, A - više op. (multi op.)
Place
Call
Score
QSO
aver.
LOC
ASL
ODX
QRB
err %
Power
antena's
1
S59R
248932
616
413.7
JN76OM
1524
5P5T
959
2.3%
1500W
2x18el.+2x14el.+8x4el.+8x4el.
2
9A0V
190625
431
442.3
JN95PE
187
SP1JNY
984
3.2%
800W
2 x 16 el. DL6WU
3
YT4B
174937
363
481.9
JN94SD
30
DF0XG
1079
1.5%
900W
8x11el dj9bv
4
YU7W
132385
317
417.6
JN95RD
250
DF0TEC
972
2.8%
800W
x10el Oblong + 2x17el. CUSHCRAFT
5
HG6Z
119947
331
362.4
JN97WV
834
5P5T
937
3.6%
800W
4x11el. EF0211B
6
LZ7J
119717
236
505.7
KN22HS
1700
SN7L
1114
0.7%
500W
4x11 el YU7EF
7
9A1N
114043
296
498
JN85LI
217
TM9A
846
4.2%
1000W
4x11 el . YAGI
8
LZ0C
103582
208
498
KN22XS
1500
IQ5NN
1091
2.1%
1000W
??????
9
E7C
99609
251
367.5
JN94CP
918
DF0YY
933
4.0%
700W
4 x 11 el. DL6WU
10
9A1KDE
71168
195
365
JN95FQ
92
DR9A
831
3.3%
100W
1/2 YU0B
11
YU1VG
65300
164
398.2
KN03KU
650
OL1R
885
4.2%
500W
2x10el
12
E73JHI
63625
177
359.5
JN85KA
800
DF0YY
854
3.5%
200W
13 EL YAGI, 8 EL YAGI, 6 EL OBLONG
13
LZ6R
57345
131
437.7
KN33KM
500
S50C
999
7.0%
100W
2x16el. F9FT
14
YT0WFF
50920
159
319.1
JN95TU
84
I1BPU
825
9.7%
100W
dk7zb 10 el
15
YU5RY
20738
78
265.9
KN04RL
389
OE5D
746
8.3%
100W
17 elment yagi beam
16
E74EBL
12321
48
256.7
JN84OS
154
LZ3A
566
4.5%
100W
2X9 EL YAGI
17
YU1BPA
4720
22
214.5
KN13DF
?
S50G
674
8.7%
50W
?????
Category: 144 MHz, B - jedan op. (single op.)
Place
Call
Score
QSO
aver.
LOC
ASL
ODX
QRB
err %
Power
antena's
1
9A9R
194864
460
423.6
JN85OQ
170
DF0MU
1016
0.6%
1000W
2X13, 2 X 8X6
2
YU7C
131931
309
427
JN95SS
101
DF0TEC
910
1.5%
800W
14el. UA9TC
3
S57M
72653
219
331.7
JN76PO
??
LZ0C
944
1.1%
100W
9 el Tonna
4
YU4ZZ
70976
200
354.9
JN94US
78
OL1R
752
5.2%
400W
2x17 elements Cuschcraft
5
YT3N
60230
119
506.1
KN04LP
200
DM7A
885
1.9%
200W
4 x 9 Tonna
6
LZ2ZY
57911
154
376
KN13OT
135
IZ5FDD
954
4.3%
500W
2X9el.
7
YU1ES
54942
160
342.2
KN04GG
400
IU4FNO
782
1.4%
200W
8m long yagi
8
YT4ZZ
38184
126
303
KN04UC
1339
SN7L
864
4.8%
45W
tona 9
9
YO5OHY
36758
100
367.6
KN17ON
410
OK4C
714
4.6%
100W
10el dk7zb
10
YU5W
33689
101
333.6
KN03KN
1114
OK1NOR
818
4.4%
50W
EF0211B8
11
YT1WP
33065
103
321
KN04CV
66
OK1NPF
732
5.7%
50W
YU7EF 14el
12
YU1LG
27768
85
326.7
KN04OO
94
SN7L
796
7.7%
15W
UA9TC 11el
13
LZ4PA
25826
84
307.5
KN23QO
82
S50C
884
7.1%
500W
2x10H/V
14
YT5DEY
24070
69
348.8
KN04OO
119
SN7L
796
0.0%
45W
8el yu7ef
15
LZ1JH
20266
71
285.4
KN12PQ
600
HG1W
733
4.9%
500W
8el lz1oa
16
YT2T
19238
64
300.6
KN13AG
??
IQ5NN
768
6.7%
25W
11el Yagi
17
YU1MS
17768
49
362.6
KN04ET
150
SN7L
745
6.4%
50W
Tonna 7el
18
E78ZX
11226
44
255.1
JN84OT
155
OL1B
586
1.5%
20W
9EL YAGI
19
YU1ZZ
10742
42
255.8
JN93WT
805
OM3W
625
3.3%
45W
10 el by YU7EF
20
E71W
10058
40
251.4
JN93EU
540
UR7D
648
2.8%
150W
8el.quad,7el.yagi
21
S57WW
6839
27
253.3
JN86CM
300
DA0FF
637
0.0%
5W
9 EL F9FT
22
LZ2WE
6805
27
252
KN13NT
35
OL9W
734
6.1%
10W
17el.
23
YU1IS
6735
29
220
KN03UM
165
S50C
625
0.0%
50W
8 el Yagi
24
YU/4O4A
2344
14
167.4
KN1DF
??
E7C
363
0.0%
??W
???
Category: 144 MHz, C - više op. E7 (multi op. E7)
Place
Call
Score
QSO
aver.
LOC
ASL
ODX
QRB
err %
Power
antena's
1
E7C
99609
251
367.5
JN94CP
918
DF0YY
933
4.0%
700W
4 x 11 el. DL6WU
2
E73JHI
63625
177
359.5
JN85KA
800
DF0YY
854
3.5%
200W
13 EL YAGI, 8 EL YAGI, 6 EL OBLONG
3
E74EBL
12321
48
256.7
JN84OS
154
LZ3A
566
4.5%
100W
2X9 EL YAGI
Category: 144 MHz, D - jedan op. E7 (single op. E7)
Place
Call
Score
QSO
aver.
LOC
ASL
ODX
QRB
err %
Power
antena's
1
E78ZX
11226
44
255.1
JN84OT
155
OL1B
586
1.5%
20W
9EL YAGI
2
E71W
10058
40
251.4
JN93EU
540
UR7D
648
2.8%
150W
8el.quad,7el.yagi
Category: 144 MHz, E - FM jedan op. - E7
Za ovu kategoriju nije bilo prijavljenih učesnika.
Van plasmana (T16. - >10% )
16. Van plasmana, odnosno biće tretirane kao log za kontrolu, će biti stanice koje budu imale više od 10% oduzetih poena.
16. Stations with more than 10% of non-valid points due to mistakes in receiveing data, shall be eliminated from the competition and treated as check logs only.
Cat.
Call
Score
QSO
aver.
LOC
ASL
ODX
QRB
err %
Power
antena's
B
Z32KF
3958
19
208.3
KN01SI
600
9A1CRS
512
21.7%
25W
2 x 9 el. EF0209
B
YU3FCM
990
8
123.8
KN13DF
?
E71EEE
282
15.6%
??
??
A
E74BYZ
9126
30
304.2
JN84OS
?
SN7L
672
14.5%
??W
???
A
YT0B
20865
81
257.6
KN04GR
300
SQ6IUS
665
13.3%
600W
Yagi 12 el.
B
E71E
2260
13
173.8
JN93DX
580
S59R
372
13.1%
10W
9 el.
B
9A2KO
10025
53
189.2
JN75IE
33
I1AXE
583
12.4%
25W
16el yagi
A
E73DPR
17115
53
322.9
JN92EP
670
HA6W
624
11.2%
400W
13 el. EF0213M
B
YU5PD
16555
64
258.7
KN04EB
500
IQ3LX
699
11.0%
90W
17 el. F9FT
B
YU4GUV
17415
60
290.2
KN03QV
150
OK2KEA
721
10.9%
40W
F9FT 16 ELE
B
9A/HA7MB
3096
13
238.2
JN73XT
210
IQ3LX
350
10.8%
50W
HB9CV
Chek logs: E70T, YU1EM
Takmičarske logove možete preuzeti u ZIP fajlu ovdje
Nezvanični rezultati - Unofficial results
Category: 144 MHz, A - više op. (multi op.)
Place
Call
Score
QSO
aver.
LOC
ASL
ODX
QRB
err %
Power
antena's
1
S59R
248932
616
413.7
JN76OM
1524
5P5T
959
2.3%
1500W
2x18el.+2x14el.+8x4el.+8x4el.
2
9A0V
190625
431
442.3
JN95PE
187
SP1JNY
984
3.2%
800W
2 x 16 el. DL6WU
3
YT4B
174937
363
481.9
JN94SD
30
DF0XG
1079
1.5%
900W
8x11el dj9bv
4
YU7W
132385
317
417.6
JN95RD
250
DF0TEC
972
2.8%
800W
x10el Oblong + 2x17el. CUSHCRAFT
5
HG6Z
119947
331
362.4
JN97WV
834
5P5T
937
3.6%
800W
4x11el. EF0211B
6
LZ7J
119717
236
505.7
KN22HS
1700
SN7L
1114
0.7%
500W
4x11 el YU7EF
7
9A1N
114043
296
498
JN85LI
217
TM9A
846
4.2%
1000W
4x11 el . YAGI
8
LZ0C
103582
208
498
KN22XS
1500
IQ5NN
1091
2.1%
1000W
??????
9
E7C
99609
251
367.5
JN94CP
918
DF0YY
933
4.0%
700W
4 x 11 el. DL6WU
10
9A1KDE
71168
195
365
JN95FQ
92
DR9A
831
3.3%
100W
1/2 YU0B
11
YU1VG
65300
164
398.2
KN03KU
650
OL1R
885
4.2%
500W
2x10el
12
E73JHI
63625
177
359.5
JN85KA
800
DF0YY
854
3.5%
200W
13 EL YAGI, 8 EL YAGI, 6 EL OBLONG
13
LZ6R
57345
131
437.7
KN33KM
500
S50C
999
7.0%
100W
2x16el. F9FT
14
YT0WFF
50920
159
319.1
JN95TU
84
I1BPU
825
9.7%
100W
dk7zb 10 el
15
YU5RY
20738
78
265.9
KN04RL
389
OE5D
746
8.3%
100W
17 elment yagi beam
16
E74EBL
12321
48
256.7
JN84OS
154
LZ3A
566
4.5%
100W
2X9 EL YAGI
17
YU1BPA
4720
22
214.5
KN13DF
?
S50G
674
8.7%
50W
?????
Category: 144 MHz, B - jedan op. (single op.)
Place
Call
Score
QSO
aver.
LOC
ASL
ODX
QRB
err %
Power
antena's
1
9A9R
194864
460
423.6
JN85OQ
170
DF0MU
1016
0.6%
1000W
2X13, 2 X 8X6
2
YU7C
131931
309
427
JN95SS
101
DF0TEC
910
1.5%
800W
14el. UA9TC
3
S57M
72653
219
331.7
JN76PO
??
LZ0C
944
1.1%
100W
9 el Tonna
4
YU4ZZ
70976
200
354.9
JN94US
78
OL1R
752
5.2%
400W
2x17 elements Cuschcraft
5
YT3N
60230
119
506.1
KN04LP
200
DM7A
885
1.9%
200W
4 x 9 Tonna
6
LZ2ZY
57911
154
376
KN13OT
135
IZ5FDD
954
4.3%
500W
2X9el.
7
YU1ES
54942
160
342.2
KN04GG
400
IU4FNO
782
1.4%
200W
8m long yagi
8
YT4ZZ
38184
126
303
KN04UC
1339
SN7L
864
4.8%
45W
tona 9
9
YO5OHY
36758
100
367.6
KN17ON
410
OK4C
714
4.6%
100W
10el dk7zb
10
YU5W
33689
101
333.6
KN03KN
1114
OK1NOR
818
4.4%
50W
EF0211B8
11
YT1WP
33065
103
321
KN04CV
66
OK1NPF
732
5.7%
50W
YU7EF 14el
12
YU1LG
27768
85
326.7
KN04OO
94
SN7L
796
7.7%
15W
UA9TC 11el
13
LZ4PA
25826
84
307.5
KN23QO
82
S50C
884
7.1%
500W
2x10H/V
14
YT5DEY
24070
69
348.8
KN04OO
119
SN7L
796
0.0%
45W
8el yu7ef
15
LZ1JH
20266
71
285.4
KN12PQ
600
HG1W
733
4.9%
500W
8el lz1oa
16
YT2T
19238
64
300.6
KN13AG
??
IQ5NN
768
6.7%
25W
11el Yagi
17
YU1MS
17768
49
362.6
KN04ET
150
SN7L
745
6.4%
50W
Tonna 7el
18
E78ZX
11226
44
255.1
JN84OT
155
OL1B
586
1.5%
20W
9EL YAGI
19
YU1ZZ
10742
42
255.8
JN93WT
805
OM3W
625
3.3%
45W
10 el by YU7EF
20
E71W
10058
40
251.4
JN93EU
540
UR7D
648
2.8%
150W
8el.quad,7el.yagi
21
S57WW
6839
27
253.3
JN86CM
300
DA0FF
637
0.0%
5W
9 EL F9FT
22
LZ2WE
6805
27
252
KN13NT
35
OL9W
734
6.1%
10W
17el.
23
YU1IS
6735
29
220
KN03UM
165
S50C
625
0.0%
50W
8 el Yagi
24
YU/4O4A
2344
14
167.4
KN1DF
??
E7C
363
0.0%
??W
???
Category: 144 MHz, C - više op. E7 (multi op. E7)
Place
Call
Score
QSO
aver.
LOC
ASL
ODX
QRB
err %
Power
antena's
1
E7C
99609
251
367.5
JN94CP
918
DF0YY
933
4.0%
700W
4 x 11 el. DL6WU
2
E73JHI
63625
177
359.5
JN85KA
800
DF0YY
854
3.5%
200W
13 EL YAGI, 8 EL YAGI, 6 EL OBLONG
3
E74EBL
12321
48
256.7
JN84OS
154
LZ3A
566
4.5%
100W
2X9 EL YAGI
Category: 144 MHz, D - jedan op. E7 (single op. E7)
Place
Call
Score
QSO
aver.
LOC
ASL
ODX
QRB
err %
Power
antena's
1
E78ZX
11226
44
255.1
JN84OT
155
OL1B
586
1.5%
20W
9EL YAGI
2
E71W
10058
40
251.4
JN93EU
540
UR7D
648
2.8%
150W
8el.quad,7el.yagi
Category: 144 MHz, E - FM jedan op. - E7
Za ovu kategoriju nije bilo prijavljenih učesnika.
Van plasmana (T16. - >10% )
16. Van plasmana, odnosno biće tretirane kao log za kontrolu, će biti stanice koje budu imale više od 10% oduzetih poena.
16. Stations with more than 10% of non-valid points due to mistakes in receiveing data, shall be eliminated from the competition and treated as check logs only.
Cat.
Call
Score
QSO
aver.
LOC
ASL
ODX
QRB
err %
Power
antena's
B
Z32KF
3958
19
208.3
KN01SI
600
9A1CRS
512
21.7%
25W
2 x 9 el. EF0209
B
YU3FCM
990
8
123.8
KN13DF
?
E71EEE
282
15.6%
??
??
A
E74BYZ
9126
30
304.2
JN84OS
?
SN7L
672
14.5%
??W
???
A
YT0B
20865
81
257.6
KN04GR
300
SQ6IUS
665
13.3%
600W
Yagi 12 el.
B
E71E
2260
13
173.8
JN93DX
580
S59R
372
13.1%
10W
9 el.
B
9A2KO
10025
53
189.2
JN75IE
33
I1AXE
583
12.4%
25W
16el yagi
A
E73DPR
17115
53
322.9
JN92EP
670
HA6W
624
11.2%
400W
13 el. EF0213M
B
YU5PD
16555
64
258.7
KN04EB
500
IQ3LX
699
11.0%
90W
17 el. F9FT
B
YU4GUV
17415
60
290.2
KN03QV
150
OK2KEA
721
10.9%
40W
F9FT 16 ELE
B
9A/HA7MB
3096
13
238.2
JN73XT
210
IQ3LX
350
10.8%
50W
HB9CV
Chek logs: E70T, YU1EM
Takmičarske logove možete preuzeti u ZIP fajlu ovdje
Prijavljeni rezultati - claimed scores
Kategorija: 144MHz, A - Više operatora (Multi ops)

Pl.
Call
Score
QSO
Loc.
ASL
Power
Antenna
1
S59R
254876
616
JN76OM
1524
1500W
2x18el.+2x14el.+8x4el.+8x4el.
2
9A0V
196732
431
JN95PE
187
800W
2 x 16 el. DL6WU
3
YT4B
177638
363
JN94SD
30
900W
8x11 DJ9BV
4
YU7W
136244
317
JN95RD
250
800W
4x10el Oblong + 2x17el. CUSHCRAFT
5
HG6Z
124388
331
JN97WV
834
800W
4x11el. EF0211B
6
LZ7J
120627
236
KN22HS
1700
500W
4x11el YU7EF
7
9A1N
118987
296
JN85LI
217
1000W
4x11 el. yagi
8
LZ0C
105838
208
KN22XS
1500
1000W
2x15el
9
E7C
104209
251
JN94CP
918
700W
4x11 el
10
9A1KDE
73511
195
JN95FQ
92
100W
1/2 YU0B
11
YU1VG
68170
164
KN03KU
650
500W
2x10el
12
E73JHI
65949
177
JN85KA
800
200W
13 EL YAGI, 8 EL YAGI, 6 EL OBLONG
13
LZ6R
61648
131
KN33KM
500
100W
2x16el. F9FT
14
YT0WFF
56384
159
JN95TU
84
100W
dk7zb 10 el
15
YT0B
24073
81
KN04GR
300
600W
Yagi 12 el.
16
YU5RY
22630
78
KN04RL
389
100W
17 elment yagi beam
17
E73DPR
19284
53
JN92EP
670
400W
13 el. EF0606W1
18
E74EBL
12897
48
JN84OS
154
100W
2X9 EL YAGI
19
E74BYZ
10672
30
JN84OS
?
?W
?
20
YU1BPA
5171
22
KN13DF
?
?W
?
Kategotija: 144MHz, B - Jedan operator (Single op)
Pl.
Call
Score
QSO
Loc.
ASL
Power
Antenna
1
9A9R
196015
460
JN85OQ
170
1000W
2X13, 2 X 8X6
2
YU7C
133977
309
JN95SS
101
800W
14el. UA9TC
3
YU4ZZ
74832
200
JN94US
78
400W
2x17 elements Cuschcraft
4
S57M
73433
219
JN76PO
?
100W
9 el Tonna
5
YT3N
61273
119
KN04LP
200
200W
4x9 Tonna
6
LZ2ZY
60492
154
KN13OT
135
500W
2X9el.
7
YU1ES
55754
160
KN04GG
400
200W
8m long yagi
8
YT4ZZ
40130
126
KN04UC
1339
45W
tona 9
9
YO5OHY
38534
100
KN17ON
410
100W
10el dk7zb
10
YU5W
35249
101
KN03KN
1114
50W
EF0211B8
11
YT1WP
35083
103
KN04CV
66
50W
YU7EF 14el
12
YU1LG
30099
85
KN04OO
94
15W
UA9TC 11el
13
LZ4PA
27810
84
KN23QO
82
500W
2x10H/V
14
YT5DEY
24070
69
KN04OO
119
45W
8el yu7ef
15
LZ1JH
21313
71
KN12PQ
600
500W
8el lz1oa
16
YT2T
20613
64
KN13AG
?
25W
11el Yagi
17
YU4GUV
19539
60
KN03QV
150
40W
F9FT 16 ELE
18
YU1MS
18936
49
KN04ET
150
50W
Tonna 7el
19
YU5PD
18606
64
KN04EB
500
90W
17 el. F9FT
20
9A2KO
11407
53
JN75IE
33
25W
16el yagi
21
E78ZX
11393
44
JN84OT
155
20W
9EL YAGI
22
YU1ZZ
11105
42
JN93WT
805
45W
10 el by YU7EF
23
E71W
10327
40
JN93EU
540
150W
8el.quad,7el.yagi
24
LZ2WE
7247
27
KN13NT
35
10W
17el.
25
S57WW
6825
27
JN86CM
300
5W
9 EL F9FT
26
YU1IS
6735
29
KN03UM
165
50W
8 el Yagi
27
Z32KF
5054
19
KN01SI
600
25W
2 x 9 el. EF0209
28
9A/HA7MB
3479
13
JN73XT
210
50W
HB9CV
29
E71E
2596
13
JN93DX
580
10W
9 el.
30
YU/4O4A
2344
14
KN13DF
?
?W
?
31
YU3FCM
1173
8
KN13DF
?
?W
?
Chek logs: E70T, YU1EM